Become a billionaire from farming tilapia male
In Soc Trang province, right in the shrimp farming area, there is a farmer earning billions of dong profit by converting new species with the model of raising tilapia with single male tilapia.
Although he was very eager to command a fish-slapping worker to supply a seafood processing company in Tien Giang, Mr. Vo Thanh Van, 61 years old, living in Long Phu town, Long Phu district, Soc Trang province still took advantage of the time to hand over exchange with us.
Mr. Van said happily: "Tilapia is often said by farmers in popular style as all-male tilapia. I chose this model because through research shows that raising monophilic tilapia has very high productivity, The selling price is stable, with potential for export processing. In addition, the farming households are also ordered by companies to provide seed, feed and product consumption ".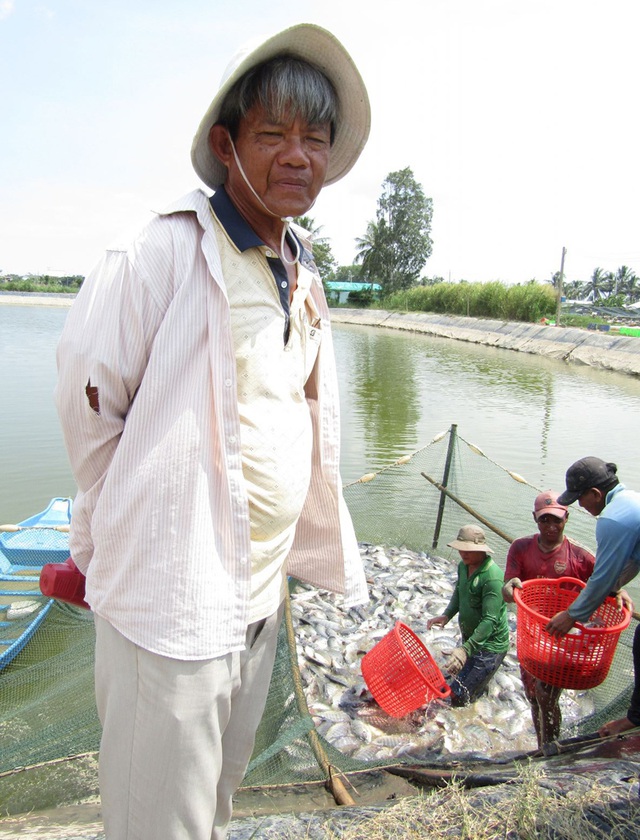 As for raising all "male" fish, Mr. Van explained: "Male" fish do not reproduce, their resistance to disease is much stronger than female, faster growth rate, higher protein and selling price. also 20% to 30% higher.
However, raising all "male" fish also requires very methodical farming and care techniques to succeed. He himself has had experience in farming many different types of seafood, so after studying the necessary factors, he started to work on monophasic tilapia farming.
The first step is to prepare 11 ponds with an area of ​​about 3,000-4,000m2 each, with an area of ​​up to 7,000m2, he reinforced a very solid embankment with a system of sedimentation and wastewater discharge. to ensure safe water sources and release the first crop in September 2019.
He applies a two-stage fish farming process. Phase 1, tilapia breeding monophilic tilapia with sizes of 3,000-4,200 / kg are put into a separate pond for culture with special care.
Phase 2, when mono-tilapia with a weight of 50-60 fish / kg will be transferred to a large pond and a different feeding and care regime.
Not only that, Mr. Van has also successfully processed organic products of sugar cane sludge microorganism (VTV) which have been inspected and evaluated for high quality and allowed to circulate in the market.
He himself has used VTV to clean the environment of his mono-tilapia pond very successfully, limit disease and loss of farmed aquatic products.
Mr. Nguyen Van Khoi, living in Long Phu town, Long Phu district (Soc Trang province), said: "Until now, only people have seen tilapia farming in fresh water, but no one has been raised in saltwater areas. In this district of Long Phu, Mr. Van has been very successful in raising him, so many people come to see Mr. Van to learn how to do business ".
Mr. Van shared: Mono-tilapia grows well in both brackish water and fresh water, but requires appropriate care and food.
Tilapia can tolerate and adapt to water with salinity below 5 / 1,000. This is a great advantage for the land to be salty in the permissible extent.
Mr. Vo Van Be, Director of Center for Agricultural Promotion of Soc Trang province, said: Tilapia farming is a new very effective model, suitable for all water surface areas, especially saltwater aquaculture areas. of Soc Trang such as: Tran De, Long Phu, Vinh Chau. We are implementing this model to farmers to diversify the target population ".
Source from: CafeF
Xếp hạng bài viết (rate the post)
[Total:

0

Average:

0

]