Facebook Ads is a powerful tool that helps you reach customers with AI (Artificial Intelligence) capabilities that Facebook has created.
I emphasize the word ACCESS, which means that the AI ​​Facebook Ads system will help you send notifications to users who have a need about your product / service.
The rest of the message has the effect of broadcasting or not, mainly because you do, but Facebook Ads is not a quick miracle.
Not understanding the nature of Facebook Ads, especially the lack of basic knowledge, causes many advertisers to "experiment" in a lavish way, like you are putting money in the trash. .
My 6 tips below will help you better understand Facebook Ads, filling in some shortcomings that you may not have known before.
Knowledge # 1: Don't depend on Facebook Ads
If you sell goods and only run ads with Facebook, consider as if you are dependent on a single channel, Facebook Ads
Assuming your Facebook ads are running well and your account is dead, you will be very confused, the daily revenue will be 0VND, then you will find a solution, it will take time.
I recommend that you choose to add Google advertising channels, with some items for young people, run TikTok Ads
I am running Google very cheaply with the price ~ 300 VND / click and bring 100-200 orders per day with only about 2,000,000 VND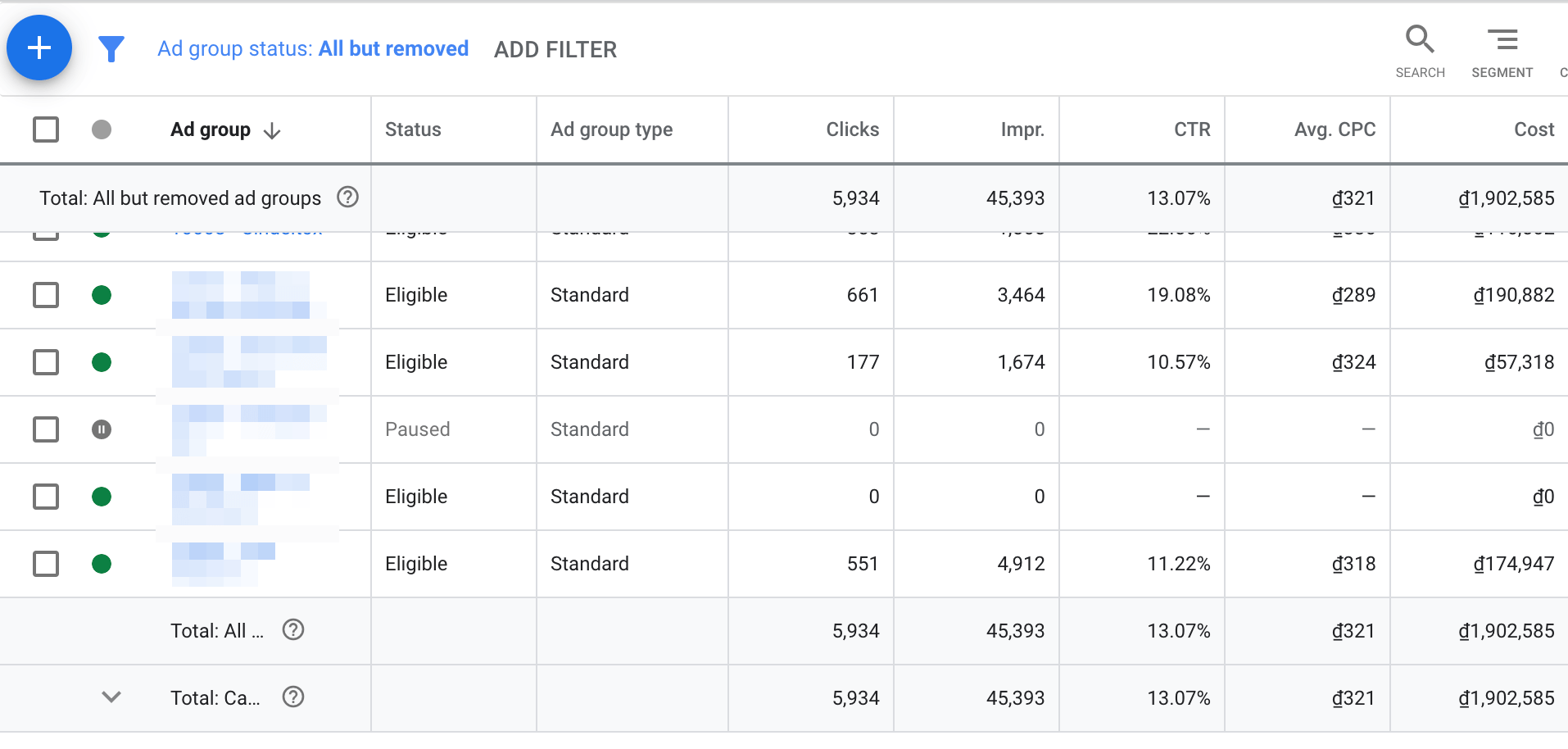 If you do not know how to run Google Ads, you can spend a few hundred thousand buying a Google Ads course, and then you can run it yourself.
Knowledge # 2: Take a Facebook Ads course to optimize costs.
Take a course on Facebook Advertising, naturally with your money. Why cost optimization?
Don't regret a few million dong to equip your knowledge with the courses. If you have knowledge, it is likely that you will run an interest rate, but if you are a novice and fly into running ads, then I think you will lose about 10-20 million for Facebook without goods.
It is possible for a successful Facebook Ads course to bring you the knowledge to earn several hundred million VND.
However, these are quality courses, and "witty" courses are only made of your time.
In my opinion, if you have not sold an application or a few applications, you can take the following course:
The Facebook Ads self-run course offers an application for newbies.
The course of running Facebook Ads conversion (This form is hot)
These 2 courses are all online, so it is very convenient for you to register and follow the video instructions. No need to go to the center!
Knowledge # 3: Define your USP (Unique Selling Point) before running ads
USP (Unique Selling Point) is your unique selling point over your competition. The USP will have a big impact on whether or not you make a sale on Facebook.
Not to run Facebook Ads ads, before that you need to analyze specifically what your product USP is?
Many friends who run Facebook do not submit an application, but when they show their products / services to me, they find "the product is super boring". Not only does the product have nothing outstanding but also expensive, how will customers buy from you?
Your advantage here could be about:
Product characteristics are better than others,
Same product, but the price is softer.
The geographical location is more convenient
Customer care service is on top
….
List everything you think is what makes customers choose your products, not your competitors.
Because Facebook Ads is easy to run now, anyone can do it, so without the USP, it is very difficult for you to sell.
When running Facebook Ads, in addition to stating the "BENEFITS" of the customer, it is best to emphasize the USP, pointing out why the customer should buy from you, not the competitor's.
Knowledge 4: Invest heavily in ad content
Ad content is all about what customers see when your ad shows through their eyes. For example, the ads image, title, video, display link,….
In the international market they call Ad Creative, that is the creativity of advertising. Because for them the content must be creative, if not, running losses is obvious ?
You know, customers or we all surf Facebook very quickly, a post does not stand out, they can quickly glance under 1 second.
Ad content is like a normal post, so if it doesn't stand out from the audience, they will also go by wind.
See for example, the Hai Trieu watch advertisement is very "trendy" or write content that helps readers "entertain".
This is a business with many videos with creative ads, which have a very positive impact for customers to surf the newfeeds, not post advertising messages.
Please set you to be client of this goods, it will absorb more than this.
Knowledge # 5: Create separate content for each category
To run Facebook ads, you must know who you are targeting? There are 3 main group customers that you need to capture:
Cold traffic: A group of "cold" customers. This who are not know to you are who. Running ads to these people, your percentage of sales is very low. The product must be extremely outstanding, the advertising content must be good to have good results.
Traffic is warm: is "warm" customer group. These people have interacted with you in the past, such as visiting a website that reads your article, liked your fanpage, participated in an event you created on Facebook, used to use your app. Each Enter your name & email in your email collection form,… With this group client, the conversion rate will be higher.
Traffic hot: Is row "hot" group. People who used to buy or use your services. If your product or service is good, "hot traffic" will be the customers with the best capacity among the three above types of customers. Because they have used your product / service once. If there is a good experience, they will definitely spend 2,3… n extra money or buy other related products.
So the best outreach strategy you can adopt is: Bring back pre-owner value to cold traffic, sales target to warm traffic, equipment for sale. goods (selling related products) for hot traffic.
Example: For cold traffic, you have to approach them as "I'm not a salesman", but to offer them something useful or valuable, entertaining or learning. From this job, you can convert them into warm traffic, then start selling.
I see this application in overseas countries quite often, but in Vietnam, I see very few applications, some examples:
Selling weight / beauty products they will pre-create a sample ad or ebook online.
Selling an online course will give you a trial or give an ebook via email
Selling physical products will discount the code
As advertised below, Elementor (A WordPress transactional website provider) will give its users free templates first, not sales.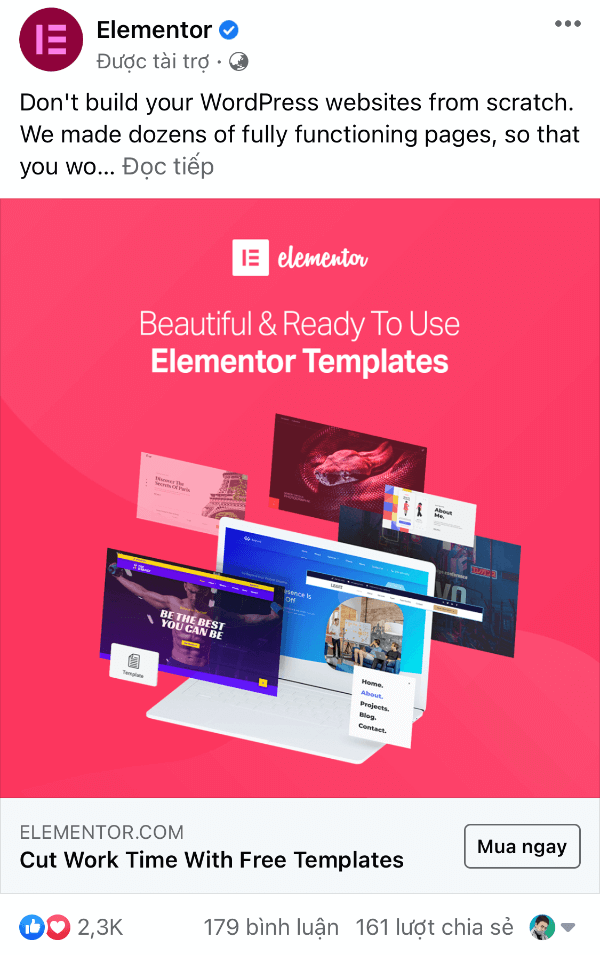 Or Alphabook runs ads for Minigame to increase customer interaction & brand recognition:
Knowledge # 6: The type of ad that is most effective is running a conversion.
To start start up the convert, at the start up the war dich, please select Marketing Object is Conversion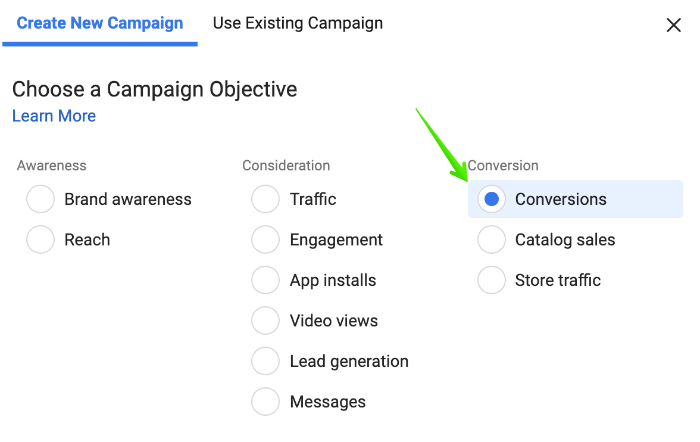 The Conversion Ad (Conversion Ad) is the most preferred category in 2020 because it is most effective for advertisers. Because it relies on Facebook's machine learning system, your ads will reach people who are more likely to buy your product.
To run your conversion ad, you need raw materials:
1 landing page is preferred, I suggest you use Ladipage
A reputable conversion advertising course, you should learn from Donnie Chu
If you are lazy to study, please watch the following video.
Conclusion
Summarizing after this article, you need to understand the following issues:
Does not depend on only 1 advertising channel, if you are wondering, try Google Ads first, my document has the link above.
You must find out the USP (Competitive Advantage) of the product / service that you are preparing to market on Facebook. Don't waste advertising money ineffectively
You must understand the importance of advertising content: Good photos, good videos + good articles, always attract customers. If you had bad ad results before, invest in your ad content again, you will see the results change clearly.
You need to know who you are reaching, focus on building customer relationships to get "warm traffic", not run sales ads with cold traffic.
The ad type that's best performing is conversion.
Determine your Campaign Audience before running your ads.
source: kiemtiencenter.com . translated : Huu Nhat