Tiki – "Amazon of Vietnam" – has returned to foreign countries: Close-up of shareholders
According to VietTimes data, on May 28, 2020, Ti Ki JSC (Tiki) completed changing its business registration, increasing its charter capital from VND 190.9 billion to over VND 208.31 billion. copper.
The additional capital mainly from foreign capital inflows, which, Tiki recorded more new shareholders such as: Success Elite Holdings Limited (owns 4.973% of outstanding shares), Sakshi Jawa (owns 0.128% of outstanding shares) and Henry Low Kwee Kok (0.011% of charter capital).
Notably, after this capital increase, the proportion of foreign shareholders in Tiki increased sharply from 49,714% to 54,501%. This means that the foreign shareholder group has a controlling interest in Tiki. VietTimes data shows that Mr. Tran Ngoc Thai Son (SN 1981) remains the Chairman of Tiki's Board of Directors.
Foreign capital flowed into Tiki starting in 2012, after Japan's CyberAgent Ventures fund invested US $ 500,000. After that, "Vietnam's Amazon" continued to receive capital inflows from other big names like Sumitomo ($ 1 million) or JD.com ("giant" Chinese e-commerce).
VietTimes data shows that Sumitomo Corporation is holding 722,808 common shares of Tiki, equivalent to 3.47% ownership. And JD.Com International (Singapore) Pte. Limited holds more than 4.1 million common shares, equivalent to a 20.031% ownership rate. In addition, Tiki also has a major foreign shareholder, Ubiquitous Traders Pte Ltd, with a ownership rate of 10.94%.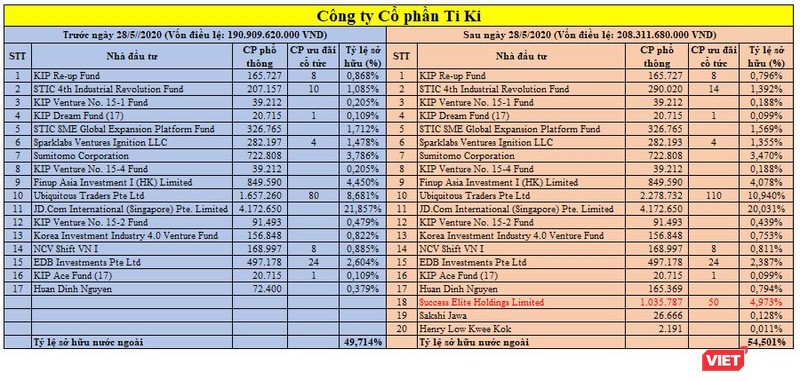 Elsewhere, a source from Dealstreet Asia said, Tiki has successfully raised $ 130 million in the latest round of funding. Therefore, it is not excluded that Tiki's ability, shareholder restructuring and capital raising movements are related to this deal.
For domestic investors, in May 2016, VNG JSC invested US $ 17 million in Tiki in exchange for a 38% stake. VNG's ownership in Tiki then declines. By the end of March 2020, VNG only owned 24.25% of Tiki's charter capital.
Also in recent times, domestic and international media and social networks have also paid much attention and speculation about the merger between e-commerce platforms Tiki and Sendo. Accordingly, the personnel of the two exchanges are working with the authorities on the merging procedure. However, both sides have not officially spoken out about the merger.
Like Tiki, on May 25, Sen Do Technology Joint Stock Company (Sen Do) also silently increased its charter capital (VND 105.7 billion to VND 114,169 billion), the ownership ratio of foreign investors. outside continued to be improved (up to 65.05%).
Notably, the shareholder structure of Tiki and Sen Do both recognized the appearance of new shareholders, Success Elite Holdings Limited.

Despite receiving a lot of investment, both Tiki and Sendo are money-burning machines in the e-commerce race. By the end of 2018, Tiki accumulated losses of VND 1,400 billion, while Sendo's figure was nearly VND 1,300 billion. Particularly in 2019, Tiki reported a loss of over 1,765 billion after tax.
In addition, in the shareholder structure of Tiki, there was the presence of Mr. Nguyen Huan Dinh. The entrepreneur born in 1978 is now the controlling shareholder and holds the position of General Director of Eton (Eton) JSC – a company specializing in providing warehousing and transportation services to retail companies, and distribution via e-commerce channel.
According to VietTimes, Eton was founded in September 2016 by Mr. Nguyen Huan Dinh. After converting to the shareholding model, Eton's shareholder structure was volatile. Updated to June 2019, Eton has a capital size of over VND 27 billion. In particular, Mr. Nguyen Huan Dinh holds 70% of charter capital, followed by Ms. Vo Thi Thuy Ha with 25% ownership.
Businesswoman Vo Thi Thuy Ha is the Chairwoman of Ba Be F&B Joint Stock Company. This company is the investor who won the project of the Convention Center, hotel and restaurant project at the water surface fund on the East side of Bo Be island, Hong Hai ward (Quang Ninh) in the form of contractor appointment.
The project has been approved in detail by the City People's Committee of Ha Long at 1/500 scale under Decision No. 1400 / QD-UBND dated March 30, 2018, and has a total implementation cost of over VND 508.86 billion.
In the Eton Board of Directors, there is also the presence of Mr. Mai Thanh Binh (SN 1981) – General Director of VNLife Group JSC.
This company was established in November 2018, with a charter capital of VND 150 billion, shareholder structure including: Mr. Mai Thanh Binh (45.18%), Mr. Tran Tri Manh (28.15%) , Mr. Trần Văn Kỳ (21.67%) and Mr. Lê Tánh (5%). By early March 2019, VNLife Group Joint Stock Company was dissolved on the grounds that "the company no longer needs business investment."