What should businesses do when the rice export market to the EU is worse than Cambodia?
Vietnam's rice exports to the EU market are still quite modest – only 1/6 of Thailand, 1/4 of Cambodia. EVFTA takes effect, commits to bring the tax rate to 0% after 3-5 years, the potential for exporting rice to the EU is huge. But what should Vietnamese enterprises do?
Wide access to the EU
At the International Workshop on regulations for rice exports to the European Union (EU) market held by the Ministry of Agriculture and Rural Development in Ho Chi Minh City on November 4, Deputy Director of the Department of Agro-Market Development and Processing – Mr. Le Thanh Hoa, said: In the first 9 months of 2020, rice exports to Europe reached over 10.05 million USD, up 23.49% over the same period last year.
However, if compared with the total import demand of rice up to 2.3 million tons per year of the EU, worth 1.4 billion euros in 2019, Vietnam's rice volume to the EU is still very modest.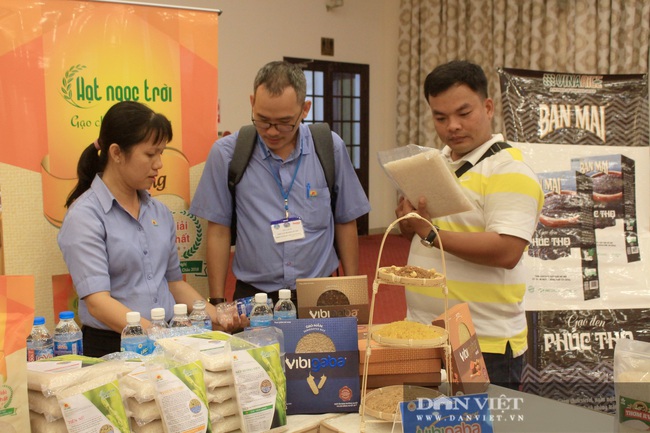 "Compared to other ASEAN countries, Vietnam's rice exports to the EU are only 1/6 of Thailand, 1/10 of Myanmar and 1/4 of Cambodia. This is a market with plenty of room, rice exports, including fragrant rice to the EU from now until the end of the year, are expected to continue to increase despite the impact of the Covid-19 epidemic, "said Hoa.
Vice Chairman of the Vietnam Food Association – Mr. Do Ha Nam – added: Two major EU sources recently, Cambodia and Myanmar, are subject to absolute tax rates until the end of 2021.
Specifically, 175 Euro / ton (2019), 150 Euro / ton (2020) and 125 Euro / ton (2021). The EVFTA Agreement officially took effect from the beginning of August. For rice products, the EU committed to bring the tax rate to 0% after 3-5 years. Mr. Nam said that the door to the EU market for Vietnam's rice industry is opening.
According to EVFTA commitments, the EU gives Vietnam a quota of 80,000 tons of rice / year, including 30,000 tons of milled rice, 20,000 tons of unmilled rice, 30,000 tons of fragrant rice, and a full liberalization of broken rice in particular. Mr. Nam updated in the past 2 months, there were 10 enterprises applying for certification with a volume of nearly 6,000 tons of fragrant rice.
"Expectation of exporting fragrant rice to the EU in the coming time will be more optimistic because this is a great opportunity for Vietnam to compete in this market in terms of price and quality", Mr. Nam said.
Mr. Daniel Dobrev – Economic and Trade Counselor of the Embassy of Bulgaria in Hanoi, said: Bulgaria is an important rice importer of Vietnam. According to him, Bulgaria can be considered as a "transit station" for Vietnam to export rice to the EU, because of the lowest taxes in the region, reasonable packaging costs and good infrastructure.
"This year, I expect Bulgarian companies thanks to EVFTA will import about 2,000 tons of rice from Vietnam," said Daniel Dobrev.
Which standards need to be met?
Although the potential to export rice to the EU is assessed as very large, this is a difficult market, requiring Vietnamese businesses to comply with strict regulations.
Mr. Ta Quang Kien – Acting Head of Agricultural Products Trade Policy Department (Department of Agricultural Product Processing and Market Development), said: According to the requirement for export aromatic rice, to enjoy the EU's import tax exemption. Quota, must have a certificate of the correct type issued by the competent authority of Vietnam.
In addition, the EU has strict regulations on product quality, environmental protection standards, and is obliged to provide proof of origin when doing customs procedures. From January 2018, the European Commission (EC) regulated the general default maximum residue level of pesticides allowed in imported rice 0.01 mg / kg.
"The EU is a very difficult market with requirements for breeds and traceability. The certification will show the quality, prestige, value and brand name of Vietnamese rice. Enterprises must have Global GAP certification and have to change their cultivation and cultivation processes compared to before, "added Mr. Kien.
Vice Chairman of the Vietnam Food Association – Mr. Do Ha Nam, said: To seize opportunities, rice exporters need to research, improve technology and organize a closed production line according to the International standards such as HACPP, HALAL or BRC to ensure the ability to supply products suitable to the tastes and demanding requirements of high-end markets like the EU.
"The State should also consider strong policies to well control the use of agricultural materials in the rice production process, especially chemical fertilizers and plant protection drugs. At the same time, supporting the promotion and replication of good practice production (GAP) processes to ensure that 100% of rice products whether exported or consumed domestically meet the requirements of food safety and hygiene ", Mr. Nam recommended.
Source from: Dan Viet
Xếp hạng bài viết (rate the post)
[Total:

0

Average:

0

]